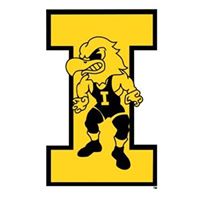 Jared Franek announced on June 16 that he was transferring from North Dakota State to the University of Iowa. Franek, originally from Harwood, North Dakota (West Fargo HS), will have one year of eligibility remaining from his Covid year.
Last season Franek placed fourth at the NCAA National Championships at 157 and won a Big 12 title with a 27-3 record. In 2022 Franek made it to the Blood Round of 12 at 157 at Nationals.
Over the last four years Franek has placed first, second, second, and third at the Big 12 Championships and won the Southern Scuffle the past two years. He has an overall career record of 92-20. In high school Franek was a four-time state champion and received North Dakota's Dave Schultz High School Excellence Award.
Franek has been named as a four-time NWCA All-Academic Team, four-time Academic All-Big 12 First Team, and two-time CoSIDA/CSC First Team Academic All American ('22 and '23).
Franek is eligible right away this season for the Hawks.
In the InterMat rankings that were released on Tuesday Franek is ranked #2 in the country at 157.
Welcome aboard Jared Franek.
It is great to be an Iowa Wrestling fan.
Go Hawks!