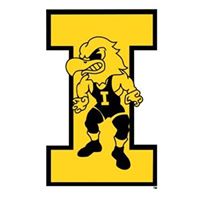 Next up for the Iowa Wrestling Recruiting Class of 2023 is Koye Grebel of Valley City, North Dakota. Grebel committed to the Hawks on March 30.
This past season Grebel was 44-2 on the season and won a state title at 138 lbs. with a 15-0 tech fall in the finals. He is a three-time state champ, four-time state finalist and was named North Dakota's Mr. Wrestler for 2023.
At Junior Nationals Grebel was 4-2 at 138 lbs. He dropped a match to new Iowa Hawkeye teammate Ryder Block in the Round of 32.
I enjoyed the comments from my blog announcing Grebel committing to the Hawks. I was contacted by several wrestling fans letting me know that we were getting a real good wrestler.
The comments were similar on Facebook from fans talking about Grebel's work ethic, character, and ability to make a way to win a match. I read in an interview that Grebel has been a lifelong Iowa Wrestling fan. Always good to hear. 
Grebel is listed at 133/141 on the new Iowa Wrestling roster.
Welcome aboard Koye Grebel.
It is great to be an Iowa Wrestling fan.
Go Hawks!