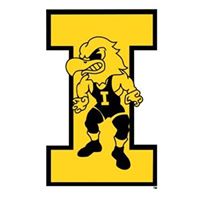 Victor Voinovich announced that he was transferring to Iowa on May 8. This was big news because Voinovich was an NCAA Qualifier at Oklahoma State last season as a redshirt freshman at 149. He will have three years of eligibility remaining.
Voinovich, originally from Brecksville, Ohio has impressive credentials starting with being a two-time Ohio state champion. He also won twice at Who's #1 that features top ranked high school prospects from across the country. 
As a true freshman Voinovich was 16-1 as a true freshman and won three tournaments. Last season he was 17-13 in the starting lineup for Oklahoma State and went 2-2 as an NCAA Qualifier at Nationals competing at 149.
In the Iowa-Oklahoma State dual meet last season Voinovich lost to Max Murin, 4-3.
Voinovich competed for Serbia in Romania recently at the Ion Cornianu & Ladislau Simon Senior Open at 70 kg/154 lbs. where he went 1-1 in competition.
Voinovich has a lot of potential for success at Iowa the next three seasons. I would think Voinovich would be a favorite at this time for the varsity spot at 149 this season.
It is great to be an Iowa Wrestling fan.
Go Hawks!