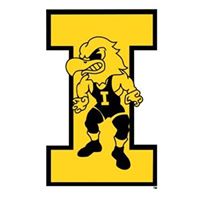 Caitlin Clark and Spencer Lee have been named as the Homecoming parade grand marshals. The University of Iowa will celebrate Homecoming with a parade on Friday night, October 6 and the football game against Purdue on Saturday, October 7. Kickoff time has not yet been announced. I have no doubt that Iowa City will be a great place to be over Homecoming weekend.
Clark and Lee are legends in Iowa sports history. Clark was just named the winner of the AAU James E. Sullivan Award yesterday as the most outstanding athlete at the collegiate or Olympic level in the country. Lee won the Sullivan Award in 2020.
Clark was the leader of the NCAA finalist Iowa women's basketball team last season and has won every award possible. Lee was a three-time NCAA champion and won the Hodge Trophy twice as the best college wrestler in the country. 
How fortunate we are to have two such great athletes representing the University of Iowa at the same time.
It is great to be an Iowa Wrestling fan.
Go Hawks!