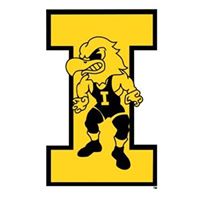 Iowa added another top recruit for the Recruiting Class of 2023 when Haley Ward committed to the Hawks last December. Ward is a four-time state champion from Fort Osage HS/Buckner, Missouri. She had an impressive 172-1 career record.
Ward captured the Gold at the U20 Pan American Championships in Santiago, Chile in July. Ward dominated the competition at 72 KG with three falls and an 8-1 decision. Ward has also won Gold at the 2019 U15 Pan American Championships.
In April Ward placed second at 72 KG at U20 Nationals and seventh at the U.S. Senior Women's Open.
In the final National Girls High School Rankings Ward was listed at #3 at 164 lbs.
The new roster has Ward listed at 155 lbs.
Welcome aboard Haley Ward.
It is great to be an Iowa Wrestling fan.
Go Hawks!