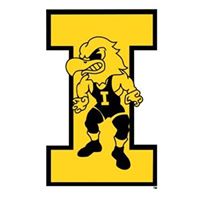 Michael Caliendo announced on June 16 that he was transferring to Iowa from North Dakota State. Caliendo placed 7th at the NCAA Championships last season at 165 as a redshirt freshman and will have three years of eligibility remaining. 
Last season Caliendo was 29-6 with six falls, two tech falls and two major decisions and placed third at the Big 12 Championships. He was 12-5 against ranked opponents. Caliendo was named to the Amateur Wrestling News All-Rookie Team as #1 at 165 lbs.
As a true freshman Caliendo was 14-2 and won four tournaments.
Caliendo is originally from Geneva, Illinois (Batavia HS) where he was a state champion as a senior and placed fourth as a sophomore and junior. He was the first state champ in school history and has school records for falls and tech falls.
Caliendo was named to the NWCA Scholar All-American Team and to the Academic All-Big 12 First Team.
In the InterMat rankings released last week Caliendo was ranked fifth at 165.
Welcome aboard Michael Caliendo.
It is great to be an Iowa Wrestling fan.
Go Hawks!