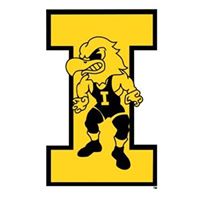 The 1999 NCAA National Champion Iowa Wrestling team was honored at the Iowa-Illinois football game. A sold out Kinnick Stadium applauded a group of Iowa wrestlers that were out on the field.
The 1999 national title was one of the closest in history and was one to remember. When the dust cleared Iowa won the team title by two points over Minnesota for head coach Jimmy Zalesky.
Iowa – 100.5

Minnesota – 98.5

Oklahoma State – 84 
The title in 1999 marked the nineteenth in school history and the 8th NCAA title in the 1990's for the Hawks.
The Hawks had five All Americans in 1999:
Doug Schwab – National Champ at 141
T.J. Williams – National Champ at 149
Lee Fulhart – 2nd at 197
Eric Juergens – 3rd at 133
Jamie Heidt – 8th at 157
I have great memories of following this group of wrestlers from high school through their career as Iowa Hawkeyes.
It is great to be an Iowa Wrestling fan.
Go Hawks!