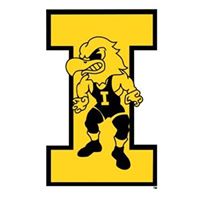 Iowa Wrestling fans and all Hawkeye fans will have a lot to follow over what looks to be the biggest sports weekend of the entire year.
The Iowa Women's Wrestling team will be at the Missouri Valley College Open in Marshall, Missouri on Friday and Saturday. Wrestling began at Noon today with prelims through quarterfinals. Wrestling begins on Saturday at 9 AM with the finals scheduled for 1:30. All times listed here are CST.
The entire tournament will be live streamed by FloWrestling on their premium service. Results will also be available on TrackWrestling.
On Thursday the new NWCA NCAA Women's College Wrestling Rankings found Iowa at #1 in the country. Iowa now has a wrestler ranked at all ten weights. What a season we have ahead of us watching this new program.
On Saturday five members of the Hawkeye Wrestling Club will be competing at the Bill Farrell Memorial Invitational in New York City. The HWC wrestlers will be competing for Titan Mercury Wrestling Club (TMWC).
Spencer Lee (57 kg), Austin DeSanto (65 kg), Pat Lugo (65 kg), Alex Marinelli (74 kg) and Jacob Warner (97 kg) will be competing.
This is always a big tournament and more so with the Olympics next year.
The Men's Freestyle will be on Saturday with a preliminary round at 9 AM CST and the Medal Matches at 4 PM CST.
FloWrestling will have all of the wrestling on their premium live stream service.
Also on Saturday 10 members of the Iowa Wrestling team will be competing at the Lindenwood Open in St. Charles, Missouri in a 44-team field. 
Wrestling begins at 9 AM CST and will run straight through. 
TrackWrestling will provide coverage of the tournament.
Lindenwood Open
Joey Cruz – 125
Caleb Rathjen – 149
Joel Jesuroga – 149
Koye Grebel – 149
Carter Martinson – 157
Isaiah Fenton – 157
Carson Martinson – 165
Drake Rhodes – 165
Easton Fleshman – Hwt
Gage Marty – Hwt
Koye Grebel and Isaiah Fenton are competing in the Black Division Fresh/Soph and the remaining Hawkeyes will be in the Gold Division.
On Sunday the Men's Wrestling program will host Oregon State at Noon for the home opener. A sold-out Carver-Hawkeye Arena will be ready to go.
The meet will be streamed live on BIGt with Alex Marinelli as the color commentator.
On the radio 800 KXIC will have Steven Grace and Mark Ironside calling the meet.
With all of the wrestling you can add in the Iowa-Illinois football game at 2:30 Saturday afternoon. Carver-Hawkeye Arena will be busy on Sunday. After the Iowa-Oregon State dual meet the Women's Basketball team will host Drake at 6 PM. 
As I said, there is a lot going on this weekend for Iowa Hawkeye fans.
I am looking forward to it.
It is great to be an Iowa Wrestling fan.
Go Hawks!