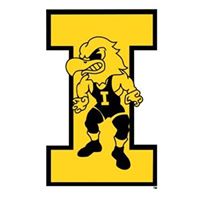 The #1 ranked Iowa Women's Wrestling team will take to the mats in Marshall, Missouri on Friday and Saturday (Nov 17-18) at the Missouri Valley Open. 54 teams will be competing in what looks to be a competitive tournament. 
The regular ten weights will be contested along with 235 lbs. that is listed as an exhibition weight.
The entire tournament will be live streamed by FloWrestling on their premium service.
Results will also be available on TrackWrestling.
Iowa is ranked #1 in the country in the new NWCA NCAA Women's Wrestling Coaches Poll with thirteen ranked wrestlers. Iowa now has a ranked wrestler at all ten weights.
The Hawks have Reese Larramendy (143) and Kylie Welker (170) ranked #1. Emilie Gonzalez (100), Ava Bayless (109), Felicity Taylor (123), Nanea Estrella (136) and Ella Schmit (143) are ranked #2.
Scheduled to compete:
101 – #2 Emilie Gonzalez, #5 Sterling Dias
109 – #2 Ava Bayless
116 – #4 Brianna Gonzalez
123 – #2 Felicity Taylor, Ava Roses, Bella Ngo
130 – #9 Emily Frost, Cali Leng, Alexandra Baudhuin, Lilly Luft
136 – Sierra Brown Ten, Esther Han, Anyka Besco
143 – #1 Resse Larramendy  #2 Ella Schmit 
170 – #1 Kylie Welker  #7 Haley Ward
191 – #5 Alivia White
235 – Sam Calkins
***NWCA NCAA Women's Wrestling Coaches Rankings
I will have a follow up blog with results.
It is great to be an Iowa Wrestling fan.
Go Hawks!