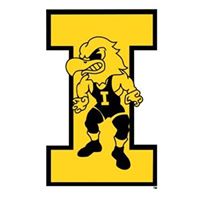 It felt more like fall this morning here in Iowa. That means Iowa Wrestling season is coming and I am more than ready. I wanted to take a look forward to what is coming up for Iowa Wrestling.
My blogs about the new members of Iowa Wrestling proved to be really popular. Fans liked the preview of who we have new to the program. Between true freshmen from the Recruiting Class of 2023 and transfers, there is a lot of potential for an immediate impact.

I will go through each of our incoming Iowa Women's Wrestling recruits and transfers as soon as the roster is released. I thought the roster would have been posted by now. The men's roster was posted at 8 AM on the opening day of classes on August 21.

The Hawkeye Wrestling Club will host a tailgater on Saturday, September 30. Iowa will be hosting Michigan State in football. The Dan Gable Wrestling Complex will be open for fans for a HWC workout before the game. The exact time of kickoff has not been announced. I will keep you posted.

For upcoming events the HWC newsletter this week stated that members will be competing at the Bill Farrell Memorial International. The New York Athletic Club will host the men's freestyle action on Saturday, November 18.

The same HWC newsletter stated that members of the club will compete in the U.S. Olympic Trials Qualifying Tournament on December 15-17 in Dallas, Texas.

The new wrestling facility is looking great. I coined the phrase: "

The greatest wrestling training facility…in the world!"

back on April 12, 2017. A recent walk around the new facility and I am confident we will have just that. It is impossible to not get excited about this new facility. It may be wishful thinking but wouldn't it be great to have the facility ready for at least one dual meet this year? I cannot wait to see our wrestles come out of the new tunnel from the new facility to a rocking Carver-Hawkeye Arena.

I have not heard about the new schedule for the upcoming season for the men's or women's program. I will keep you posted.

I have no doubt there will be a huge weekend for Iowa Wrestling to host recruits coming up soon. Recruiting is what makes me tick and you can count on me keeping you up to date.

Dan Erekson was named as an Assistant Coach at the Air Force Academy in Colorado Springs this past summer. Erikson was a two-time NCAA All-American for us in 2009 and 2010 and a member of three NCAA National title teams (2008, '09, & '10). Erikson joins former Iowa All-American and NCAA National Finalist Joe Johnson on the Air Force staff. I like to stay up to date on where our Hawks are coaching and giving back to the sport. 

The annual HWC Trap Shoot will be on Saturday, October 14 at Highland Hideaway Hunting. To register as a shooter or sponsor:

2023 Sporting Clays Shoot Tickets (hawkeyewrestlingclub.com)

The HWC will host an Inner Circle Clinic on Sunday, October 15. To register:

Inner Circle Clinic – Campaign (hawkeyewrestlingclub.com)

The HWC will be hosting pre-dual meet socials again this year. I will keep you up to date when the schedule is released.
As I have stated for years on this blog, Iowa Wrestling is my entertainment. I plan on being entertained this year as an Iowa Wrestling fan. I cannot wait.
It is great to be an Iowa Wrestling fan.
Go Hawks!