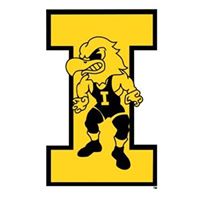 The biggest dual meet of the year is upon us. Iowa-Penn State. Friday night. 7:30 PM CST. Live on BTN. Ironside and Grace on the radio. #1 vs. #2. Does not get any bigger than this. The wrestling world will always take notice when these two programs clash each season. We should be in for an entertaining dual meet.
Usually I go through and highlight the top matches in a dual meet. For this dual every single match is huge. The intensity will be in the air before a packed crowd.
If you go by rankings Penn State is favored in seven of the ten bouts. Iowa is only a clear cut favorite in one match and that is #1 Spencer Lee at 125. Iowa is a slight favorite at 141 and 149. For Iowa to win this dual they will have to wrestle above their rankings.  
Tom Brands did mention in his press conference on Tuesday that the entire meet would be shown. When another dual meet or basketball game would run over the time limit in the past the dual meet would start without TV. Not the case this year. BTN knows that fans want to see Spencer Lee.
From a motivational standpoint you could not have scripted the Wisconsin meet any better if you tried. I am expecting the best version of Iowa Wrestling so far this season. Better than what we saw against Nebraska. I believe we will see just that.
Like I said about Gable in my book Domination: An Inside look at Iowa Wrestling:
The most important thing a leader can do is lead their team into battle.
Spencer Lee returns home to lead his team into the lion's den at #1 Penn State.
Iowa Wrestling is my entertainment. I plan on being entertained Friday night.
Let's get 'em in the middle.
#2 IOWA HAWKEYES (12-0, 5-0) vs. #1 PENN STATE NITTANY LIONS (10-0, 3-0)
Friday, January 27
7:30 PM CST
Live on BTN
Mark Ironside and Steven Grace on 800 AM KXIC, iheartradio.com and hawkeyesports.com
125 
1/1/1 Spencer Lee RS Sr. Murrysville, Pa./Franklin Regional 10-0 
Gary Steen RS Fr. Hermitage, Pa./Reynolds 5-9
133
 -/17 Brody Teske Jr. Fort Dodge, Iowa/Fort Dodge (Penn State/UNI) 4-0 -or- Cullan Schriever So. Mason City, Iowa/Mason City 7-6 
1/1/1 Roman Bravo-Young Gr. Tucson, Ariz./Sunnyside 9-0
141
 2/2/2 Real Woods Sr. Albuquerque, N.M/Montini Catholic (Ill.) (Stanford) 9-0 
8/4/3 Beau Bartlett Jr. Tempe, Ariz./Wyoming Secondary (Pa.) 14-0
149
11/7/9 Max Murin RS Sr. Ebensburg, Pa./Central Cambria 13-3 -or- Caleb Rathjen RS Fr. Ankeny, Iowa/Ankeny 4-3 
12/13/12 Shayne Van Ness RS Fr. Somerville, N.J./Blair Academy 11-2
157
 17/15/14/14 Cobe Siebrecht Jr. Lisbon, Iowa/Lisbon 8-2 
6/9/11 Levi Haines Fr. Arendtsville, Pa./Biglerviller 12-1 -or- Terrell Barraclough Jr. Kaysville, Utah/Layton 6-3
165 
9/13/11 Patrick Kennedy So. Kasson-Mantorville, Minn./Kasson-Mantorville 12-2 
13/5/5 Alex Facundo RS Fr. Essexville, Mich./Davison 11-1
174
 15/15/15/17 Nelson Brands Sr. Iowa City, Iowa/West 4-3 
1/1/1 Carter Starocci Jr. Erie, Pa./Cathedral Prep 10-0
184
 12/12/9 Abe Assad Jr. Carol Stream, Ill./Glenbard North 14-2 
1/1/1 Aaron Brooks Sr. Hagerstown, Md./North Hagerstown 6-1 
197
 7/7/11 Jacob Warner Sr. Tolono, Ill./Washington 11-2 
4/4/1 Max Dean Sr. Lowell, Mich./Lowell (Cornell) 12-2
285 
3/3/3/3 Tony Cassioppi Sr. Roscoe, Ill./Hononegah 16-0
2/2/2 Greg Kerkvliet Jr. Inver Grove Heights, Minn./Simley 8-1
*(WIN/InterMat/AWN rankings)
It is great to be an Iowa Wrestling fan.
Go Hawks!