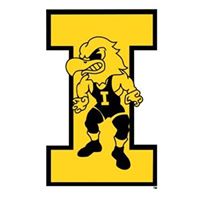 Two-time national finalist Jaycee Foeller has announced that she is transferring to the University of Iowa Women's Wrestling program. Foeller was a national runner-up for Central Methodist this past season and for McKendree in 2022. Foeller was a teammate of current Hawkeye Felicity Taylor who transferred to Iowa from McKendree last season.
Foeller will have two years of eligibility and will be eligible for the upcoming season at 191 lbs.
Originally from DeSoto, Missouri, Foeller was a three-time state champion and 121-0 in high school. Foeller was a member of the United State Development Team in high school and was ranked #1 in the country as a senior.
The Hawks signed 15 incoming recruits and transfers in the Class of 2022. Iowa has already received commitments from eight wrestlers for the Recruiting Class of 2023 in addition to two-time national finalist Foeller and national champion Marlynne Deede as transfers.
The University of Iowa is the first Division I Power 5 Conference member to have women's wrestling. The Hawks have their first year of official competition next season.
It is great to be an Iowa Wrestling fan.
Go Hawks!