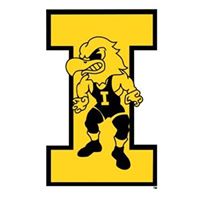 The University of Iowa has released the official roster for the 2023-24 Iowa Women's Wrestling team. Iowa will begin their first year of competition this season as the first women's wrestling program in a Power 5 Conference.
Last season the Iowa roster had 15 wrestlers when they all took a redshirt as the program built its foundation. The new roster has a total of 28 wrestlers from 14 states including 3 from Iowa. 
Transfers were added to the program that should have an immediate impact on the program. Marleen Deede was a national champion for Augsburg at 155 and Jaycee Foeller was an NAIA Runner-Up at 191 for Central Methodist University last year.
The Recruiting Class of 2023 was impressive with Rose Cassioppi (165), Lilly Luft (130), Alivia White (191), Haley Ward (155), Bella Ngo (130), Cali Leng (123), Emily Frost (130), Ava Rose (116) and Danni Swihart (138).
The competition for a starting spot on the team will be a battle and the Hawks will have real good depth at every weight.
The schedule has not been released. I did have a blog that East Stroudsburg had a press release that they were hosting Iowa on November 4.
Iowa Women's Wrestling at ESU on Nov 4 – Iowa Wrestling Fan (iowawrestlingblog.com)
I will keep you up to date when the schedule is released.
I have already started highlighting our new wrestlers with a blog on Rose Cassioppi. I will continue to go through all of our incoming recruits and transfers in future blogs.
I am looking forward to that first home dual meet in Carver-Hawkeye Arena. I do not know what the attendance records are for women's college wrestling but I am confident Hawkeye fans will set the standard.
I am hoping that Iowa has at least one double dual with both of our wrestling programs. That would get a full house of fans and hopefully TV and internet coverage.
I will be covering the women's program right here on my blog all season.
2023-24 Iowa Women's Wrestling Roster
Women's Wrestling – University of Iowa Athletics (hawkeyesports.com)
It is great to be an Iowa Wrestling fan.
Go Hawks!