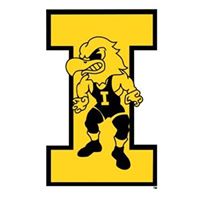 The Iowa Women's Wrestling program welcomes in Lilly Luft of Charles City, Iowa in the Recruiting Class of 2023. Luft is the third Iowan to join the program. 
Luft had a great career at Charles City where she won three state titles and finished her career with a 125-6 record. This past season she was 40-0 and won a state title at 130 lbs.
In the final National High School Rankings Luft was #2 at 138 lbs. and #18 overall in the pound-for-pound rankings.
Luft placed second at 132 lbs. at Junior Nationals in Fargo and placed fourth at 62 KG/136 lbs. at U20 Nationals in April. Luft placed fourth at the 2021 Cadet Beach Wrestling World Championships in Romania.
Luft was named for several honors including being named the Iowa High School Female Wrestler of the Year and the Dan Gable Ms. Wrestler of the Year. She was also awarded the state of Iowa winner of the Tricia Saunders High School Excellence Award. Luft was also the Midwest Region winner of the Tricia Saunders High School Excellence Award for the states of Iowa, Minnesota, Wisconsin, Nebraska, North Dakota, South Dakota, and Ohio.
Lily Luft is listed at 130 on the new roster and has a great career ahead of her as an Iowa Hawkeye.
Welcome aboard Lilly Luft.
It is great to be an Iowa Wrestling fan.
Go Hawks!