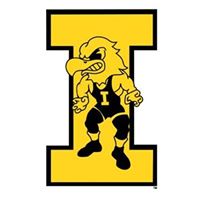 The #1 ranked Iowa Hawkeyes hit the road for a Big Ten dual meet at Michigan on Saturday at 7 PM CST. The meet will be on BTN.  Michigan is ranked #17 by TrackWrestling and #19 by InterMat.  There will be some very good matches in this dual meet. The featured match will be at Hwt where #3 ranked Tony Cassioppi will face #2 ranked Mason Parris. This one match alone is worth your time to watch this dual meet. This will be a great match.
At 149, #4/2 Pat Lugo will face #11/9 Kanen Storr who started his career at Iowa State before transferring to Michigan.  We will also see a good matchup at 157 where #4/5 Kaleb Young will face #8/9 Will Lewan. Lewan is a redshirt freshman that won a 2017 Cadet Freestyle World title.
It looks as though there is a good chance that Max Murin will return to the lineup at 141 for the first time since the Nebraska dual meet on January 18. Iowa has Murin and Carter Happel listed on the lineup.  Iowa also has Abe Assad and Cash Wilcke listed at 184. We will see Paul Glynn in the lineup at 133 in place of Austin DeSanto.
Michigan has three highly ranked wrestlers taking an Olympic redshirt this season in Stevan Micic (133), Logan Massa (165), and Myles Amine (174).  Next year I look for Michigan to be ranked in the preseason top 4.  
Every match in the Big Ten is a big deal for seeds at the Big Tens and Nationals.
#1 Iowa at #17/19 Michigan – 7 PM CST on Saturday, February 8, 2020
TV: BTN with Tim Johnson and Jim Gibbons
Online: Hawkeye All-Access
Radio: AM 800 KXIC on iHeartRadio.com with Steven Grace and Mark Ironside.
125 1/1 Spencer Lee (Jr) vs. 16/19 Jack Medley (So)
133 Paul Glynn (Sr) vs. Austin Assad (Sr) or Joey Silva (Fr)
141 8/9 Max Murin (So) or Carter Happel (Jr) vs. 29/- Cole Mattin (Fr)
149 4/2 Pat Lugo (Sr) vs. 11/9 Kanen Storr (Jr)
157 4/5 Kaleb Young (Jr) vs. 8/9 Will Lewan (Fr)
165 2/2 Alex Marinelli vs. Tyler Meisinger (Jr) or Reece Hughes (Jr)
174 1/1 Michael Kemerer vs. Max Maylor (Fr)
184 8/9 Abe Assad or Cash Wilcke (Sr) vs. 21/20 Jelani Embree (So)
197 5/6 Jacob Warner vs. 29- Jackson Striggow (Sr)
Hwt 3/3 Tony Cassioppi vs. 2/2 Mason Parris (So)
*Rankings: TrackWrestling/InterMat
It is great to be an Iowa Wrestling fan.
Go Hawks!