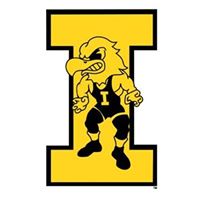 The 2018 Big Ten Winter Academic All-Conference Team was announced.  Iowa Wrestling was well represented with 10 wrestlers being named to the prestigious honor.  To be eligible, an athlete has to be a student for the past twelve months, be a letter winner, and maintain a minimum 3.0 GPA.  Iowa Wrestling had 10 student-athletes named for this achievement out of 23 eligible student-athletes. That is an impressive percentage.  Iowa Wrestling had 9 wrestlers named to this honor last season.
Among those named to the Academic All-Conference Team were three wrestlers that obtained All American status last weekend at the national tournament.   Four-time All American Brandon Sorensen (149 lbs.), sophomore and two-time All American Michael Kemerer (157 lbs.), and freshman and All American Alex Marinelli (165 lbs.). Phillip Laux and Kaleb Young also saw varsity action this season.
The student athletes named to this honor are now eligible for Academic All American status.  Last season, Iowa Wrestling had three student-athletes obtain All American status for the second time in Tom Brands' tenure.  Among those honored were Brandon Sorensen and Michael Kemerer.
This honor is a testament to the commitment to academics by the Iowa wrestlers, Iowa Wrestling coaching staff, the University of Iowa Athletic Department, and by the University of Iowa.  They truly are "Student-Athletes" in Iowa Westling. If you ever go to an Iowa Wrestling practice, you will hear Tom Brands talk about and emphasizes academics every time. These are the results.
I will keep you up to date when the Academic All American honors are announced.
Job well done.
Go Hawks!
Stephen Alvarez – RS Fr. – English & Creative Writing – Spring Valley, Calif.
Michael Kemerer – So. – Finance – Murrysville, Pa.
Phillip Laux – Sr. – Management – Brighton, Iowa
Alex Marinelli – RS Fr. – Sport & Recreation Management – Miamisburg, Ohio
Logan McQuillen – Sr. – Biology/Health & Human Physiology/Biology – Monticello, Iowa
Aaron Meyer – So. – Health & Human Physiology – Pleasant Hill, Iowa
Dan Murphy – RS Fr. – Open Major – Fort Collins, Colo.
Keegan Shaw – So. – Economics & Finances – Altoona, Iowa
Brandon Sorensen – Sr. – Sport & Recreation Management/Enterprise Leadership – Cedar Falls, Iowa
Kaleb Young – RS Fr. – Human Physiology – Punxsutawney, Pa.